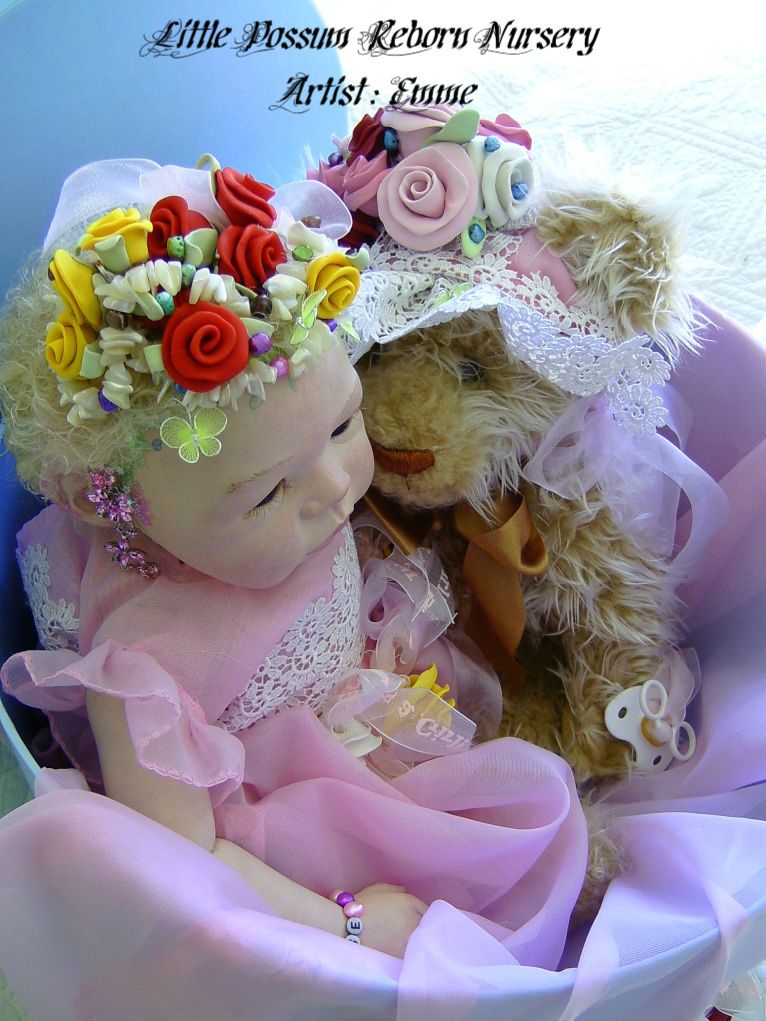 Look what I found with my roses today!
Real ROSE fairy with her Teddy.
As I dont know her mom...The Rose queen ....I need your help to find her.
If you know Rose Queen or carry that titel yourself then please contact with Little Possum Nursery ASAP to get your lost Rose Princess ...

She comes with her Teddy
Handmade Teddy rose hat

Pink handmade dress
Handmade removable roses on her head with real freshwater pearls
Mother or pearl and fresh water pearls neckless /head piece
socks
dummy with rose
nappy
big sky blue hat box
dust cover
Birth certificate
I`ll add few handmade roses (just in case)

She is heirloom doll for display from now on ...and not for child to play
She has several Earth magnets inside her, therefore she can be dangerous for people with pacemakers and can erase your computer software when kept close to them.
Handeled with care she should last for generations.
She is painted only with Genesis paints and filled with tiniest glass beads and polyfill.
She has full hands and 3/4 legs.
Base of her hair is handpainted with Forget-me -not flowers.
Her ears are hand sculpetd by me.
Hair are sealed inside and fairyglitter is glued on with E-6000 glue.
No latex is used ,she is safe to people with latex allergies.