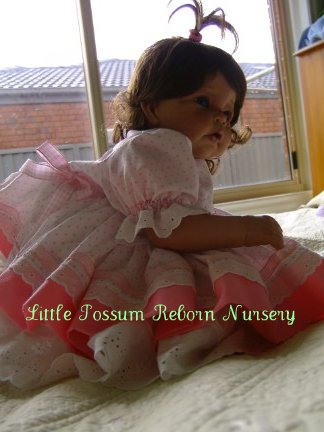 Please meet Baby Lucy
Cute E. Knoops kit is brought to life to be adorable litte 51 inch girl with big blue eyes and freckels on her nose.
She is order doll and looks very cute but less baby like.
She has extensive vein mapping like all my kids.
Her hair is a soft brown wig with locks.

She is painted with Genesis paint and filled with tiniest glass beads and poly fill.
+ She has plastic tube inside her to help her sit up stright and hold her head.
She is only 1,5 kg heavy ( by her mother to be request) and she will be wearign this hand made pink dress with boomers .
I hope you love her like her new mommy does and

admire her on thouse pictures below.

XOXO
Emme

Her face took long time to paint. I love vein and capp. mapping. + request was made for lttle cute freckels.
Ididnt glue her eyes inside the eyesocket.(
Her eyes are realistic polymer vinyl eyes- they are quite new on the market and hard to get) . Most of eyes are glass or hard plastic.

So she can look up , down, left or right with her eyes....